New
: Read
LST's 2025 Vision
report, which outlines plans and proposals to help law schools be more accessible, affordable, and innovative.
A Way Forward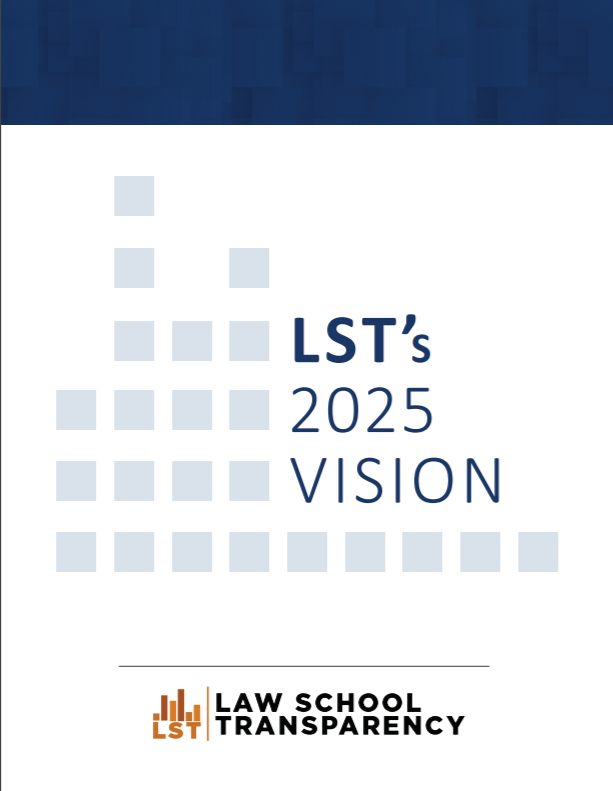 Report Summary
We can talk endlessly about who or what is to blame for the exorbitant cost of law school, but it's far more productive to focus on changing what needs to change. This initiative does just that by confronting the structural barriers that hold schools back. We envision lower tuition, less financially-stressed graduates, and a more diverse profession. On this page, you can read a bit about how we hope to get there.
Much of our focus is on a de facto regulator of law schools, U.S. News & World Report—a ranking that does not consider how it impacts the modern and future law school. The incentives it creates and hierarchy it reinforces complicate even the most basic reform conversations within law schools. Decision-makers need new systems of measurement that produce better incentives, yet still offer consumers valuable information as they decide where to attend law school. We also plan to also continue to work with the actual regulator, the ABA Section of Legal Education & Admissions to the Bar, on how it can better nurture innovation and help schools responsibly discharge their duties to our profession and those we serve. Regulatory change can affect the cost of joining the legal profession in big and small ways.
We don't quite know what the future holds for law schools. Who will they educate? How? When? What we do know that we are not satisfied with the current path. We can diverge, however, if people throughout our profession work together. We need structural change to achieve more accessible, affordable, and innovative law schools.
Primary Contacts
Kyle Fry
Assistant General Counsel, Kent Corporation
Iowa State Bar Association
[email protected]
Summary Materials
Project Summaries
Text
STUDENTDEBT
to 44321 to
Donate
Not an auto-charge; will not bill to your phone statement
Partnerships
Together with the Iowa State Bar Association Young Lawyers Division and others concerned about the future of legal education, Law School Transparency is leading the Blue Sky Initiative. Our financial partners include the Iowa State Bar Association, the Iowa State Bar Assication Young Lawyers Division, the Stanford Center on the Legal Profession, the Nebraska State Bar Association Young Lawyers Section, JD Advising, the ABA Young Lawyers Division, and individuals.
Track our Work
In Progress, Anticipated Release August 2022: The LST Index
This project seeks to instill a baseline for U.S. legal education as it relates to cost, diversity, transparency, and innovation. Schools will also be able to earn a free certification, overseen by an independent standards council, that signals to the market the school's values and achievements. The criteria selected, weight prescribed, and threshold delineated will reflect a vision of legal education where law schools are more affordable, more inclusive, more open, and more responsive to what society needs from its lawyers. They will also reflect a process that involved law school administrators and educators from the start.
In Progress, March 2020 to February 2023. Revised ABA Standards
LST will work with the ABA Section of Legal Education to improve the accreditation standards according to three themes:
Fewer Limits on Innovation: remove barriers to help schools meet societal needs
More Consumer Protection: thoughtful accreditation enhancements to ensure the seal of ABA approval continues to mean something to the public
More Transparency: more data to serve as the foundation for reform and as an impetus for change
Specific plans and proposals related to these themes are available in LST's 2025 Vision.
September 2021: Unified LST Tools/Brands
We fully integrated all of our prelaw tools into a single website. This furthers our goal of increaseing access to and usage of high-quality information for prelaw students and their advisors. This will help us continue to serve diverse and low-income students who want to go to law school navigate the admissions process, make informed choices about where to attend and how much to pay, and establish skills and knowledge that will help them enter the legal profession upon graduation.
June - August 2021: ABA Commits to More Diversity Data
The Council for the ABA Section of Legal Education and Admissions to the Bar voted to track the total number of students receiving a tuition discount at each ABA-accredited law school by race and gender. This decision builds upon the council's decision earlier this summer to track borrowing rates by race and gender. In practice, this will allow consumers, the public, and researchers to identify law schools where long-marginalized groups borrow or pay full price in greater numbers. Read more.
December 2020: The New LST Reports
Updated the current, market-leading tools for prospective law students and released a new professional development and student management platform for prelaw advisors. Together, these tools increase access to and usage of high-quality information for prelaw students. In particular, the new resources help diverse and low-income students who want to go to law school navigate the admissions process, make informed choices about where to attend and how much to pay, and establish skills and knowledge that will help them enter the legal profession upon graduation.
Reports sometimes just sit on shelves. Blueprints signal something ambitious and yet-to-be accomplished. This initiative is a collection of projects that fit into a bigger picture. This report outlines that bigger picture and highlights how we will bring about significant change in legal education.
August 2019: Conference Kick-Off for the Blue Sky Initiative (now "LST's 2025 Vision")
We hosted a conference within a conference at the ABA Annual Meeting in San Francisco in partnership with the ABA Young Lawyers Division and Iowa Young Lawyers Division, Uncomfortable Conversations About Legal Education—Student Debt, Diversity, and More.
Law schools face an unrelenting system of incentives that make lowering prices, equitable access, and curricular innovation extremely difficult. This half-day program examined how to cause positive change in legal education. It began with a deans panel on obstacles to lowering costs. It continued with lightning talks on open source learning, inequitable pricing, the federal loan program, and income share agreements. Next was a session on U.S. News, the elephant in the room. It ended with a panel on how technology can (and can't) affect costs.
June 2019: Publish Data Proposals in Florida International Law Review
Kyle McEntee published More Transparency, Please. in the FIU Law Review. This piece further fleshed out the data policy proposals from the 2018 report, which was endorsed by a variety of bar organizations.
November 2018: Propose Changes to ABA Data Policy to Advance Law School Access and Affordability
Goal: Increase the availability of school-level data related to tuition, debt, and the potential disparate impact of law school pricing strategies on women and people of color.
Progress: We have presented the proposals to key parties at the ABA Section of Legal Education, and received warm reception. Through the rest of 2019 and early 2020, we will work with the Section to implement the proposals.
July 2018: Blue Sky Focus Groups and Interviews
We began to outline our next steps towards our goals through conversations with law school deans, administrators, and faculty; current and former regulators; young and seasoned lawyers; people at legal education nonprofits; and even people outside of the legal profession. We asked them:
Question Prompt: What changes (at law schools, regulators, legislatures, NGOs, etc.) could reduce the cost of legal education? Regardless of challenges or hurdles, consider any changes that could, immediately or over time, bring the cost of legal education down any amount. Once we have a list of ideas, we will analyze them and think through feasibility and effectiveness.
May 2018: Young Lawyer Representation in Law School Accreditation
Goal: Involve multiple young lawyers in the legal education accreditation process through representation on the Council.
Progress: Partially achieved. The Council added one young lawyer for a three-year term beginning in August 2018. Others were nominated but not added. In part, a need exists to create/nurture tomorrow's transformative legal thinkers, which we hope to fulfill through a young lawyer pipeline program. We must ensure a consistent pipeline of young, qualified legal thinkers who are ready to engage in the future of the legal profession
February 2018 Report
LST and the Iowa Young Lawyers published A Way Forward: Transparency in 2018, a report that explores ongoing problems in legal education. The report makes several targeted recommendations for the ABA related to expanding both young lawyer representation in the accreditation process and data transparency, which would shed light on law student debt, inequitable pricing practices, and lasting inequality. The goal is for the increased transparency to help the public and leaders to confront difficult realities, whether high prices, burdensome debt, low bar passage rates, or unfulfilled diversity promises.
Official Endorsements/Support of 2018 Report
Iowa State Bar Association Young Lawyers Division
Nebraska State Bar Association Young Lawyers Section
Florida State Bar Association Young Lawyers Division
New Jersey State Bar Association Young Lawyers Division
Virgin Islands Bar Association Young Lawyers Division
Illinois State Bar Association Young Lawyers Division
South Carolina State Bar Young Lawyers Division
Washington State Bar Association Young Lawyers Committee
ABA Law Student Division
ABA Young Lawyers Division
Iowa State Bar Association